Description
BMW 6 Series E63 CCC Power Failure Professional Idrive Failure E63 BMW idrive Navigation Sat Nav Repair
Navigation Sat Nav Repair
BMW CCC Professional Idrive Failure E63 BMW idrive Navigation.
Most BMW CCC Failure Professional I drive Failure E63 other BMW i drive models fail from many common problems, such as :
Stuck on BMW logo
Idrive Navigation Sat Nav Repair
Flickering LCD Screen
Navigation not working
Idrive freezing or not working correctly
Complete CCC Failure, CCC needs replacing.
Software needs updating
We can professionally repair your BMW CCC Professional idrive for E63 (5 series) and E61 (5 Series Estate), E63 (6 Series),  E90 (3 Series), E87 (1 Series) and similar models from 2004 upto 2007 (pre LCI) and restore it back to original working state.
As the original unit is being repaired, all your existing data settings will remain intact, like the mileage, immobiliser code, vin number and other data.
BMW CCC Failure Professional Idrive Failure E60 and other BMW idrive models have a very complicated system which uses a MOST fiber optic signal.
BMW CCC Failure Professional Idrive Failure E60 BMW idrive Navigation Sat Nav Repair service is available from Revtronic as we will repair your CCC in house.
The unit can be diagnosed , software updated , removed , repaired and fit back to your vehicle. Using specialist equipment your unit can be recovered and restored to its original state. This will repair your BMW CCC for complete failure.
Your repaired CCC back  will come back with the latest software version (silver menu screen.)
Your repaired CCC will work alot smoother and alot of previous software glitches will be rectified by updating the software.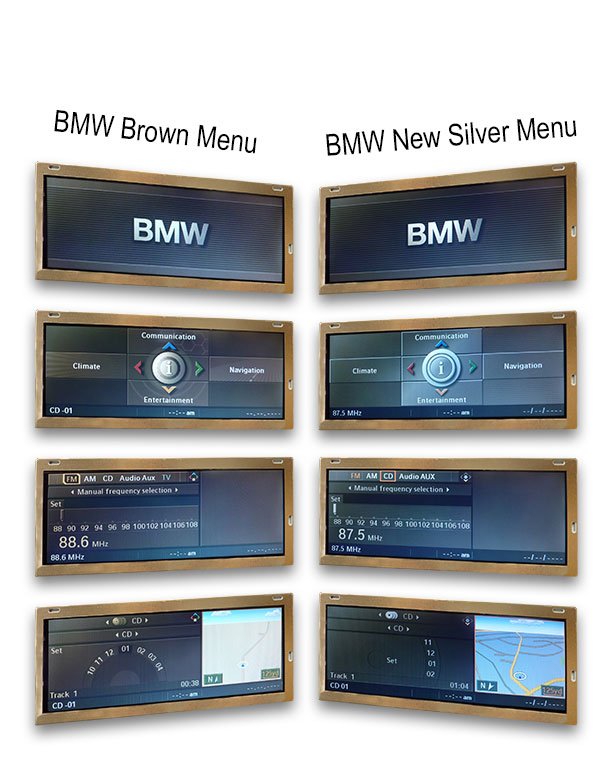 We will also thoroughly check your CCC drives , the audio drive will be tested for audio playback and scanning cd's, your DVD drive will also be checked and serviced.
A fixed fee repair service is offered, which means that there are not any hidden extras.
Beware : There are many people offering to repair these units but unfortunately they end up being tampered and damaged to a point where they cannot be revived again. We are confident in our repair service and can stand by our expertise and experience repairing these units.
We are a VAT registered company and will offer a full 12 months warranty on all work done by us.
The full repair is done by Revtronic in house , we have a workshop with all the technical equipment needed to repair and test these units.
Some common part numbers that need the CCC repair are (Even if your part number is not listed its not a problem as most of them are virtually the same) :
6583 6951 856
6583 9138444-01
6583 6974 913-02
6583 6953773
6583 9138436
6583 6957599
6583 9138444
6583 9138444-01
6583 6987692-02
6583 6987692-03
65 83 6 981 566-01
65 83 6 974 916-02
65 83 6 987 689-01
6583 9138448-01
65 83 6 974 913-02
65 83 6 951 856
65 83 6 953 773
65 83 6 949 171
6583 9138 444-01
6583 911 7559-01
BMW CCC repair exchange service :
If you cannot wait for the repair of your original unit , then we can offer you an exchange from our refurbished stock. 
For a little more , we can remove your old unit , fit our refurbished CCC , make sure everything is fitted and secured, then code and program our refurbished CCC to your car ensuring that all factory options and coding are set according to your vehicle.
Please call for more information.
Please note : Unfortunately you may lose the voice command functionality as BMW dealers no longer issue FSC activation codes. 
New , we can now add bluetooth music streaming for your BMW CCC.
You now have the option to have bluetooth music functionality , please ask whilst your unit is being repaired.
Our repair process in 3 easy steps :
STEP 1
Carefully remove your unit from your vehicle. If you are not sure then please contact your local garage or google for removal instructions.  
STEP 2
Complete transaction and print a purchase receipt and send it along with your item to our workshop address. Securely pack your item.
Please remember to include your vehicle chassis number (VIN) in order for us to code and program your unit to match your vehicle order.
You chassis number can be easily located under the passenger wiper arm, Mot Certificate , or under the bonnet.
STEP 3
Once we have received your unit we will inspect and repair your unit after thorough testing and post back to you.  
We can also arrange to remove your faulty unit from your vehicle with a small charge, this service is only available by appointment only please call.
Revtronic Ltd is a UK based company, all our repair work is carried out in house, a full VAT receipt is given, we offer full guarantee on all our repairs
BMW 6 Series E63 CCC Power Failure Professional Idrive Failure E63 BMW idrive Navigation Sat Nav Repair
BMW 6 Series E63 CCC Power Failure Professional Idrive Failure E63 BMW idrive Navigation Sat Nav Repair
BMW 6 Series E63 CCC Power Failure Professional Idrive Failure E63 BMW idrive Navigation Sat Nav Repair