Description
VOLVO V70 cluster repair also C70, S60 , S80 V70 DIM Instrument Panel Repair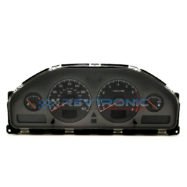 VOLVO V70 cluster repair also known as DIM
Most Volvo V70 or C70 or similar models with the same instrument cluster will start to suffer from many problems
Common problem with VOLVO V70:
Volvo dead instrument cluster
VOLVO V70 cluster repair V70 DIM Instrument Panel Rebuild
Intermittent power
Lights flickering
Instrument cluster
Lights not working
No power to clocks
V70 cluster repair
V70 cluster repair V70 DIM Instrument Panel Repair
These are the most common problems that Volvo V70, C70 drivers suffer from.
You may have other similar dashboard related problems which we should be able to fix.
Your Volvo dashboard instrument cluster panel will be professionally repaired and tested by our qualified technicians.
We will ensure that your instrument cluster panel is repaired to the highest standard using approved components with a greater tolerance level.
Your original mileage , VIN , and all other important settings will remain the same.
Don't forget to download the repair form , fill and print it out and send send along with your instrument cluster.
If you are not sure on how to remove your cluster , please consult an authorised garage who will be able to assist you with the removal.
Nearly all Volvo Instrument Cluster part numbers are supported including :
VCC P/No : 8637997
Spare P/no: 8602475
YZK P/No : 69294-650T

Spare P/no: 8602472 YZK
P/No : 69294-640T

Please be sure that you have keys similar to below, as these are the versions that we offer to repair :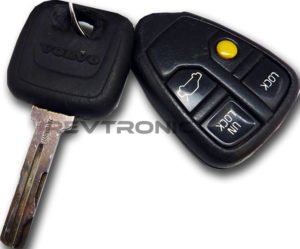 Please note ! When you get your Volvo cluster back the "SRS Warning" may have to be reset using a suitable diagnostic machine as this fault is stored in the vehicle and not the cluster.
Our repair process in 3 easy steps :
STEP 1
Carefully remove your unit from your vehicle. If you are not sure then please contact your local garage or google for removal instructions.
STEP 2
Complete transaction and print a purchase receipt and send it along with your item to our workshop address. Securely pack your item.
STEP 3
Once we have received your unit we will inspect and repair your unit and after thorough testing we post back to you.
We can also arrange to remove your faulty unit from your vehicle with a small charge, this service is only available by appointment only please call.
We are UK based company, all our repair work is carried out in house, a full VAT receipt is given, we offer full gurantee on all our repairs
HERE IS A VIDEO INSTRUCTION ON HOW TO REMOVE THE VOLVO V70 , S60, S80 FOR INSTRUMENT CLUSTER REPAIR :