Description
Skoda Fabia MK1 Instrument Cluster Panel No Sound or Power Dials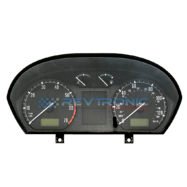 Skoda Fabia MK1 Instrument Cluster Panel No Sound or Power Dials
Most Skoda Fabia MK1 dashboard/instrument cluster clocks fails from many
Common problems such as :
No power
Flickering cluster
Dials not working
Fabia MK1 Instrument Cluster Panel No Sound or Power Dials
Speedometer dial not functioning correctly
Rev dial not functioning correctly
All dials dead
Warning lights blinking
Other problems
Skoda Fabia MK1 No Dials
No audible warnings
No indicator noise
No warning tones coming from dash or instrument cluster
Silent indicator
We can professionaly repair your existing instrument cluster and restore it back to original working state.
As the original unit is being repaired, all your existing data settings will remain intact, like the mileage, immobiliser code, vin number and other data.
If your cluster suffers from the above problems, and the part number is not listed we should still be able to repair it.
Some of the affected part numbers can be :
6y2 919 830c
6y0 020 981M
Please goto the contact page and download the PDF when sending this cluster for repair.
Our repair process in 3 easy steps :
STEP 1
Carefully remove your unit from your vehicle. If you are not sure then please contact your local garage or google for removal instructions.
STEP 2
Complete transaction and print a purchase receipt and send it along with your item to our workshop address. Securely pack your item.
STEP 3
Once we have received your unit we will inspect and repair your unit and after thorough testing we post back to you.
We can also arrange to remove your faulty unit from your vehicle with a small charge, this service is only available by appointment only please call.
Revtronic Ltd is a UK based company, all our repair work is carried out in house, a full VAT receipt is given, we offer full guarantee on all our repairs