Description
Porsche Cayman Navigation Repair PCM 1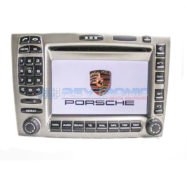 If you have a Porsche Cayman navigation unit fitted then it could be a PCM 1 made by Becker – model number BE6635
After a while, your unit can suffer from
Common problems such as :
Not reading discs correctly
Taking a long time to load maps
Makes a noise trying to read
Disc error messages
Slow function and map searching
Please wait ……
Error loading CD
Porsche Cayman Navigation Repair PCM 1
Revtronic can successfuly repair this , using quality components we will rebuild your unit and fit a brand new laser assembly.
The dealers cannot offer you this service and would recommend a direct replacement which can be very expensive.
Removal :
Remove surrounding panel trim .
This will expose 4 x T20 torx screws, unscrew these.
Pull unit forward , you will see some plugs which should unclip easily.
Pull the GPS antenna connector out.
The unit should now be free to remove.
Turnround :
These can be repaired , tested and sent back to you within 2-4 working days.
Our repair process in 3 easy steps :
STEP 1
Carefully remove your unit from your vehicle. If you are not sure then please contact your local garage or google for removal instructions.
STEP 2
Complete transaction and print a purchase receipt and send it along with your item to our workshop address. Securely pack your item.
STEP 3
Once we have received your unit we will inspect and repair your unit and after thorough testing we post back to you.
We can also arrange to remove your faulty unit from your vehicle with a small charge, this service is only available by appointment only please call.
Revtronic Ltd is a UK based company, all our repair work is carried out in house, a full VAT receipt is given, we offer full guarantee on all our repairs