Description
PIONEER AVIC-F9880 DAB-SUZUKI DECODE SERVICE FOR LOST PASSWORD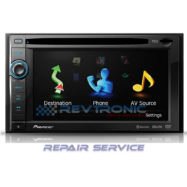 This is a decode service for your AVIC-F9880 DAB-SUZUKI DECODE SERVICE FOR LOST PASSWORD 
If you have recently disconnected your car battery and your CD/Radio is asking for a security code then we can help.
simply remove your unit send post you our office , we will supply you with the correct code tested .
1-2 working days to decode and return. Please note that You unit must be asking for a security code and not locked out by entering the wrong code several times . 
Your unit will be repaired and fully tested, We have full bench testing facilities and can check the full function of your unit.
A full warranty will be provided, The dealers cannot offer you this service and would recommend a direct replacement which can be very expensive.
OUR REPAIR SERVICE IN 3 EASY STEPS:
STEP 1
Carefully remove your unit from your vehicle. If you are not sure then please contact your local garage or google for removal instructions.  
STEP 2
Complete transaction and print a purchase receipt and send it along with your item to our workshop address. Securely pack your item.(if you have no printer then please  manually write your details on paper, please include the transaction/order details).
STEP 3 
Once we have received your unit we will inspect and repair your unit and after thorough testing we post back to you.  
CUSTOMER INFORMATION
Typical time to decode can be between 1-3 working days upon receiving the parcel 

Return postage is included in the repair price.

 In the unlikely event of your unit not being able to be repaired can be due to previously being repaired or tampered with or has water contamination, if this happens then the item may not be repairable, we will contact you and update you about this.
We can also arrange to remove your faulty unit from your vehicle with a small charge, this service is only available by appointment in office only please call.
Revtronic Ltd is a UK based company, all our repair work is carried out in house, a full VAT receipt is given, we offer full warranty on all our repairs.
PLEASE REMOVE YOUR UNIT AND POST TO: Revtronic Ltd, 46 Listerhills Road, Bradford, BD7 1HT