Description
Mercedes Electronic Steering Lock Problem E Class W212 Repair Service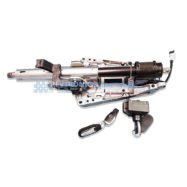 Most Mercedes W212 E Class can suffer from electronic steering lock problems such as :
Ignition not turning on
No display 
Instrument cluster not lighting 
Car does not start
Steering lock does not release
Mercedes Electronic Steering Lock Problem W204/W207/W212
ESL faulty
Some fault codes can be :
A22449 – The electronic ignition lock has a malfunction. There is an internal
electrical fault
A25407 – The electric steering lock has a malfunction. There is a mechanical
fault
A25408 – The electric steering lock malfunction. There is a signal fault or the
message is faulty
A25409 – The electric steering lock has a malfunction. There is a component
fault
A25464 – The electric steering lock has a malfunction. There is an implausible
signal
If you notice that you have to insert the key a few times for the steering to unlock , or if you here a clicking noise from the column then this is probably a sign that your electronic steering lock (ESL) is probably going to fail.
If your electronic steering lock completely fails then we can repair/replace this at a fraction of the cost compared to the main dealers.
If the car has to go to the dealers then they need at least 5 days to order the parts and can be very expensive. They will also need to order a special programming key which can take another 3-5 days to arrive.
We have new improved parts in stock and car work on your car same day.
An improved part is used that is more reliable and does not have a mechanical mechanism inside that can fail.
We will be able to extract the data needed to code and program an improved electronic steering lock (ESL) as we have all the latest technology needed for these cars.
In fact most new Mercedes do not have electronic steering locks due to the unreliability of the mechanical locks.
We will need the car here at our workshop , however we may be able to help you if you can send the keys , electronic ignition switch (EIS) and electronic steering lock (ESL).
Why not ask for a spare replacement key ?
Our repair process in 3 easy steps :
STEP 1
Carefully remove your unit from your vehicle. If you are not sure then please contact your local garage or google for removal instructions.
STEP 2
Complete transaction and print a purchase receipt and send it along with your item to our workshop address. Securely pack your item.
STEP 3
Once we have received your unit we will inspect and repair your unit and after thorough testing we post back to you.
We can also arrange to remove your faulty unit from your vehicle with a small charge, this service is only available by appointment only please call.
We are UK based company, all our repair work is carried out in house, a full VAT receipt is given, we offer full guarantee on all our repairs.