Description
Mercedes C Class W203 Instrument Cluster Repair Service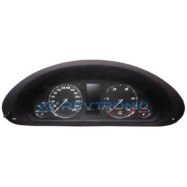 This is for a Mercedes C Class W203 Instrument Cluster Repair Service , C Class W203 2005+ Facelift dashboard instrument panels can suffer from
Common problems :
No power
Mercedes C Class W203 Instrument Cluster Speedo Clocks Dead No Power Repair Service Intermittent power
Dials not working
No needles
Gauges not working
No display
ABS Warning Light
Centre display not working
Flickering display
Power flickering
We can professionally repair your Mercedes C Class W203 year 2005+ Instrument Panel Cluster for the above faults.
Your original instrument cluster settings will remain the same , including the important factors as the mileage, VIN and other important information.
A full bench test will be carried out, using manufacturer recommended components.
Mercedes C Class W203 Instrument Cluster Removal procedure :
A suitable hook tool will be required, insert the tool to the small slot on the right , push the tool so you hear a click, then pull the right side forward.
Repeat step 1 for the left side.
Once both sides have been released pull the Mercedes Instrument Cluster forward.
Unclip the small black plug, this will release the instrument cluster.
Our repair process in 3 easy steps :
STEP 1
Carefully remove your unit from your vehicle. If you are not sure then please contact your local garage or google for removal instructions.
STEP 2
Complete transaction and print a purchase receipt and send it along with your item to our workshop address. Securely pack your item.
STEP 3
Once we have received your unit we will inspect and repair your unit and after thorough testing we post back to you.
We can also arrange to remove your faulty unit from your vehicle with a small charge, this service is only available by appointment only please call.
Revtronic Ltd is a UK based company, all our repair work is carried out in house, a full VAT receipt is given, we offer full guarantee on all our repairs