Description
BMW X5 Series model E53 Pixel Repair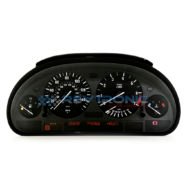 BMW X5 Series model E53 Pixel Repair for missing pixels in display, for BMW pixel repair service.
Pixel display errors are very common on the BMW E53 – X5 series a pixel repair service is offered.
We provide a professional BMW X5 Series model E53 Pixel Repair service, with full bench testing facilities , having the ability to emulate the instrument cluster as if it were in the car. The faulty pixels can be visible on the bench when testing , we can then carry out work for the BMW X5 Series model E53 Pixel Repair.
We carry all necessary components, including replacement screens and ribbon cables to carry out a succesful BMW X5 Series model E53 Pixel Repair service.
Normally your mileage reading, temperature display and on board vehicle data is not visible or partly visisble , these pixels can be repaired.
BMW X5 Series model E53 Pixel Repair
To repair the pixels on the BMW X5 Series model E53 Pixel Repair service please remove your cluster and send along with a completed form – BMW X5 Series model E53 Pixel Repair.
How to remove the instrument cluster
You will require the following tools:
Flat Head Screw Driver
Torx 10 Screw Driver
Phillips 2″
1) Firstly, remove the 2 Torx 10 screws above the cluster
2) Lower the steering wheel both downwards and outwards
3) Now pull the cluster forward
4) Next, find the black wiring harness connector which will be on the left side. This will have a lever lock on it, so to remove it, push the lock down to release the lever whilst pulling back on it too. Rotate the lever 90 degrees and then pull the connector out.
5) Finally, remove the white and blue connectors on the right side and carefully slide cluster out.
Our repair process in 3 easy steps :
STEP 1
Carefully remove your unit from your vehicle. If you are not sure then please contact your local garage or google for removal instructions.
STEP 2
Complete transaction and print a purchase receipt and send it along with your item to our workshop address. Securely pack your item.
STEP 3
Once we have received your unit we will inspect and repair your unit and after thorough testing we post back to you.
We can also arrange to remove your faulty unit from your vehicle with a small charge, this service is only available by appointment only please call.
Revtronic Ltd is a UK based company, all our repair work is carried out in house, a full VAT receipt is given, we offer full guarantee on all our repairs