Description
Audi TT Instrument Cluster Speedo Clocks Repair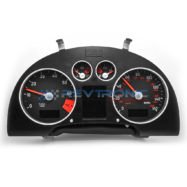 Audi TT Instrument Cluster Speedo Clocks Repair for Fuel Gauges not working ,temp gauge also not working
This is for an Audi TT Instrument Cluster Repair service.
Most Audi TT , A3 and A6 instrument clusters suffer from
Common problems such as :
Audi TT Instrument Cluster Speedo Clocks Repair

Power dead

Audi TT Instrument Cluster Speedo Clocks Repair

Flickering on/off

Temp and fuel dials not working
Rev and MPH needles not working
Instrument cluster works after being on for a long time
Intermittent power
Your Audi TT, A3 or A6 instrument cluster will be rebuilt using factory approved components.
As standard we will replace the microprocessor which controls the functions of the cluster with a new improved version.
This will fix other potential faults and improve stability.
Audi TT instrument cluster repair at our Bradford workshop.
A full bench test is carried out prior to sending out your cluster.
Your original mileage and settings will remain intact, including your immobiliser code. You do not need to do anything, just plug and play.
Please note : This is for a temp and fuel gauge repair service. If your LCD screen is dim or faded then you will also need to purchase the LCD Repair option.
Turnround is normally 2-3 working days.
Our repair process in 3 easy steps :
STEP 1
Carefully remove your unit from your vehicle. If you are not sure then please contact your local garage or google for removal instructions. 
STEP 2
Complete transaction and print a purchase receipt and send it along with your item to our workshop address. Securely pack your item.
STEP 3
Once we have received your unit we will inspect and repair your unit and after thorough testing we post back to you. 
We can also arrange to remove your faulty unit from your vehicle with a small charge, this service is only available by appointment only please call.
Revtronic Ltd is a UK based company, all our repair work is carried out in house, a full VAT receipt is given, we offer full guarantee on all our repairs