Description
AUDI A1 & Q3 Radio Screen Repair Service for blank Screen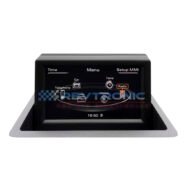 AUDI A1 & Q3 Radio Screen Failure are :
Audi MMI  sound ok but no display
Audi MMI No Display from manual flip top screen  
Audi MMI Radio ok , sound ok no display
The Vehicle must be here present in the workshop for the repair work to be carried out , your radio must power on and sound must be present from the radio .
Turnaround is normally 1-2 Hours .
Revtronic Ltd is a UK based company, all our repair work is carried out in house, a full VAT receipt is given, we offer full guarantee on all our repairs.