Description
Audi A4, RB4 Error or DEF Problem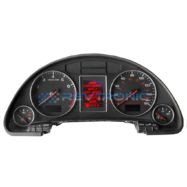 The Audi A4 dashboard made by bosch is the most complicated dashboard for people who work with dashboards.
Now we have good news!
We have the ability to handle this crypted dashboard.
We can handle crypted and non crypted Audi A4 dashboards made by bosch and marked as RB4 (RB4 type are made until end of 2004 year).
We can solve problems like:
Can set new miles/km to any value with 10km accuracy.
We can also set dash to "MODE 4" (means dash is like brand new, so You can teach it to any same type car again).
This option is useful for "second hand" dashboards, so far it was hard to reuse them.
All this can be done "via OBD", which means we don`t need remove dashboard from car.
If you have this problem we can rectify this by just having the instrument cluster only .
Please contact us
Our repair process in 3 easy steps :
STEP 1
Carefully remove your unit from your vehicle. If you are not sure then please contact your local garage or google for removal instructions. 
STEP 2
Complete transaction and print a purchase receipt and send it along with your item to our workshop address. Securely pack your item.
STEP 3
Once we have received your unit we will inspect and repair your unit and after thorough testing we post back to you. 
We can also arrange to remove your faulty unit from your vehicle with a small charge, this service is only available by appointment only please call.
Revtronic Ltd is a UK based company, all our repair work is carried out in house, a full VAT receipt is given, we offer full guarantee on all our repairs